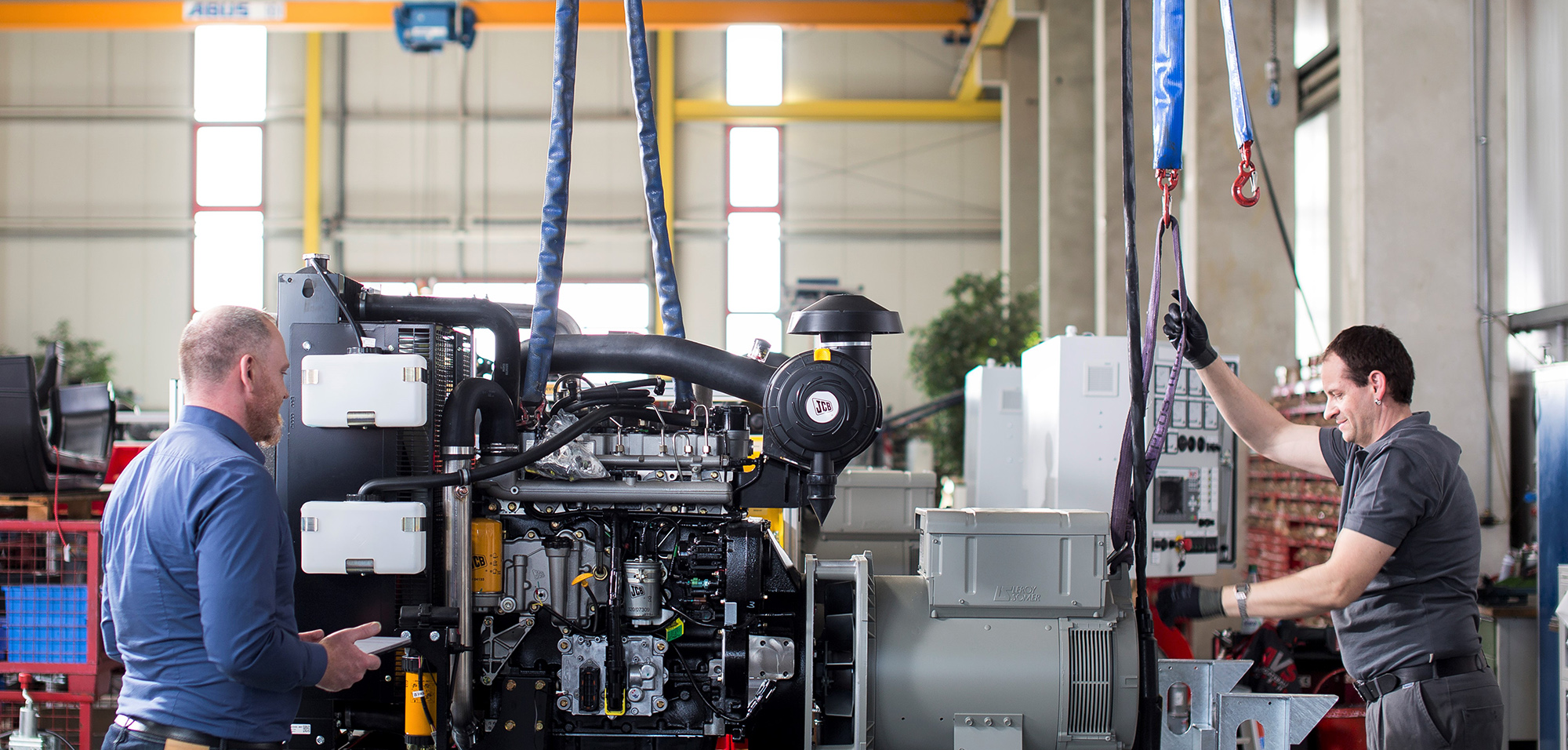 AVS Aggregatebau GmbH
"Only Target Times Open Up the Opportunity for Change"
07.08.2019
MTM-EasyTime: AVS Aggregatebau GmbH Increases Efficiency by More Than 50 %
Medium-sized enterprises face enormous challenges. A corporation's innovative strength is an important factor for maintaining competitiveness, but it is not the crucial one: Productivity has to be just right too! Any firm wishing to improve its business performance in the long term has to first know what the work system and the in-house production facilities can actually achieve. Time plays a major role here as a control parameter. AVS Aggregatebau GmbH has managed to introduce enormous progress in terms of productivity within a very short time. The key to its success has been MTM-Easy – the concept that enables sufficiently precise time management for any corporation. AVS Plant Manager Joachim Ruopp is delighted.

Mr. Ruopp, can you please describe the initial situation for us…
We wanted to increase the efficiency of our production, but were only able to make use of figures based on past experience for our planning work – that is to say, we didn't have any systematic time management, as is the case almost everywhere in the medium-sized sector. The employers' association, Südwestmetall, drew our attention to MTM – and to the new MTM-EasyTime software for calculating reference times. It's fast, simple and cheap to use and delivers visible, reliable results immediately – what more could you want? It's a superb introduction to the topic of systematic time management.

You talk about results that are immediately visible and reliable. Do you have any specific figures?
We've tested MTM-EasyTime and determined the time required for our current production system to assemble a particular type of unit, if the work has been ideally organized. The analysis, which works very simply and quickly, by the way, has achieved savings potential of 70%. We immediately introduced 50% of this and we're currently working on the remaining 20%. It was important for us to see that we can extract even more from the system!

So, this example has set a precedent?
Yes, we were so delighted by the results that we immediately looked at a different type of machine. Through using MTM-EasyTime, we achieved savings of one third of the work time here too! It's our goal to make savings of 70% in the production of all types of units.

According to studies, 70 – 80% of medium-sized enterprises don't work with any time analysis schemes – what motivated you to test MTM?
We didn't make any progress with time studies based on stop watches. However, if you use MTM, you see the benefits immediately! Drawing up plans with target times instead of actual times is a completely different matter. In addition, you get the employees on your side because you record the operations directly on the shop floor – and that makes the whole thing unbelievably transparent. MTM-EasyTime is an excellent tool, partly because it's so simple to use, requires little effort in terms of time and the costs for doing calculations in the cloud are so low that they're not a significant factor at all. Otherwise, medium-sized enterprises wouldn't become involved in the first place.

What is due to happen after the pilot schemes?
The next stage involves calculating times as early as the design phase, simply by using the parts list. The goal for the large-scale item in question – a truck trailer with an emergency power unit – is to make savings of about 50% in the production time. Making a precise price calculation to survive in a highly competitive environment too is now no problem with MTM. It was important for us to firstly create a basis with MTM-EasyTime so that we could see the general potential of the system. We can now go into further detail with the fine tuning. I'm certain we'll achieve another 20 – 30%.

Creating transparency is an important benefit behind the MTM-Easy concept…
It's amazing how little work is required to consider a complete corporation and gain a general impression of what's actually possible. For instance, we've always assumed that you can complete a small unit twice as fast as a large one. This line of thought has turned out to be incorrect. On the contrary, it's true in principle that you can generally produce a large unit just as quickly as a small one.

What's the most important insight that you've gained by starting to use MTM?
You need target times. You must know how big the difference is to the actual time required. Only target times open up the opportunity for change.

What would you say to your colleagues in other medium-sized enterprises?
We'll no longer be able to continue without a systematic time management system. MTM gives you the chance to work more effectively and plan your human resources needs in line with the requirements. If German medium-sized enterprises use MTM, they can easily compete with other countries in Europe that pay far lower wages. In principle, you only need to decide whether you wish to survive in the market or not. If so, you must adopt this course.
Picture Copyright:
© MTM ASSOCIATION e. V.