MTM Institute – Engine for Innovations
MTM research and development is bundled at the MTM Institute in Zeuthen near Berlin. The anchoring of MTM in science and research is an essential task of the institute, which was founded in 1999.
The MTM process language is established as a worldwide standard for work design. The MTM Institute also plays an important role internationally in the further development and opening up of new fields of application.
The activities in research and development, the close cooperation with partners in industry, science, associations and institutions, the offers for exchange of experience, the expert opinions and last but not least the own publishing activities make the MTM Institute a motor for innovation in the design of human work and a reliable partner.

Research and development priorities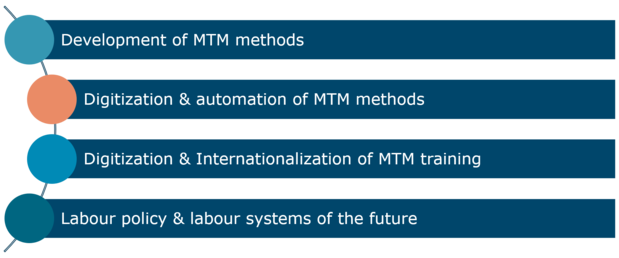 Services
Distribution and further development of MTM
Research in the field of industrial engineering and the design of human work
New and further development of MTM methods
Working in national and international scientific communities and networks, maintaining and promoting the
exchange of experience, organizing and conducting workshops and colloquia
Development of new concepts for training and training courses
MTM training for students at universities, colleges and technical schools
Scientific and popular science publications
Contact for university teachers and students
Your Contact
ao. Univ.-Prof. Dr. Peter Kuhlang
CEO MTM ASSOCIATION e. V. / Deutsche MTM-Gesellschaft mbH
---
Your Contact
Andrea Hilliger
System Manger Global MTM Training Platform
---