MTM (Methods-Time Measurement)
Methods-Time Measurement
This means that the time required to perform a task depends on the method chosen.
The MTM founders Herold Bright Maynard, John Lenhard Schwab and Gustave James Stegemerten are credited with systematically illustrating this for the first time. The foundation for the development of the MTM method was laid by Frank Bunker Gilbreth (1868 to 1924), a building contractor and pioneer in the study of movement. In optimizing the work processes in his company, he was concerned not only with increasing work performance, but also with the optimal working method, a well-designed workplace and energy-saving, low-stress work. Even today, MTM as a method and as an organization stands for well-designed human work.


OUR VISION
The process language MTM is used as a worldwide standard for the design of human work.

OUR MISSION
The task of the MTM organization is to uniformly distribute MTM products and services worldwide so that
member companies and customers to improve their competitiveness,
all MTM users have a recognised reference basis for the assessment of human work at their disposal and
the brand MTM becomes known everywhere.
Training, consulting, software and research – all from one source, at any time, anywhere in the world!


OUR VALUES
Simplicity – Responsibility – Reliability


OUR CLAIM
MTM – TIME TO WIN
Guiding Principles for the future of human work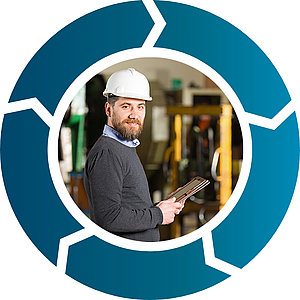 Human labour remains essential in production
Planning and value creation become digital and smart
Digitization needs valid data and standards
MTM delivers valid data
MTM is the standard