03/18/2021 | SME 4.0: Learning for the digital transformation
Research partners develop action guide for small and medium-sized enterprises
"Companies and Employees Shape the Digital Transformation" - "SME 4.0" for short – is the name of the project funded by the German Federal Ministry of Labor and Social Affairs, which was successfully completed after four years. Under the leadership of the Machine Tool Laboratory (WZL) of RWTH Aachen University in cooperation with MTM ASSOCIATION e. V., partners from education and training and IT as well as company users developed practical solutions to meet the challenges of digital transformation. The focus was on the participation and qualification of employees.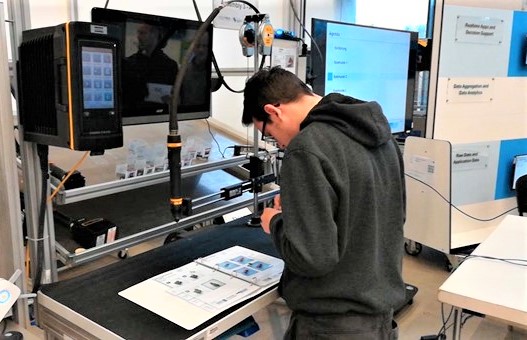 SME 4.0 Learning game: Participants at an assembly station
From tutorial to web tool
Concrete results include digital tutorials for setup or assembly support, a work-oriented knowledge management system, a digital material management tool and a web tool for production planning. Learning in the operational projects is supported by seminars, workshops and learning and business games. Particularly worthy of mention is the action guide "SME 4.0: Sustainably ensuring innovation capability".
Even though the transfer of the approaches developed into practice was different than planned due to the pandemic, the representatives of the Federal Ministry certified the project an excellent overall result at the closing event. "We, too, are proud to have been part of a research project that focuses in particular on the needs of small and medium-sized enterprises in coping with digital change," emphasized Prof. Dr. Peter Kuhlang, CEO of MTM ASSOCIATION e. V. and, like Prof. Dr. Thomas Mühlbradt, Head of Research and Labor Policy at MTM ASSOCIATION e. V., a member of the research project's core team.
His thanks go to all those involved – from the project management to the partners (Gesellschaft für innovative Beschäftigungsförderung GIB, DFA Demonstrationsfabrik Aachen GmbH, the memex Academy, i2solutions GmbH, GOM Gesellschaft für Organisationsentwicklung und Mediengestaltung, Heinen Automation), to the companies where the solutions were applied (Polierscheibenfabrik G.A. Spaeth eK, Ph-MECHANIK GmbH & Co. KG, Periplast - extrusion expertise GmbH & Co. KG, Julius Montz GmbH GmbH and Rhein-Getriebe GmbH).

Your contact for further information:
Prof. Dr. Thomas Mühlbradt, thomas.muehlbradt@mtm.org