04/26/2021 | Siemens Digital Industries Software relies on technology partner MTM-Softwarehaus
Why digitize human work - and how? Herwig Weidle, Division Director Software Development at Deutsche MTM-Gesellschaft Industrie- und Wirtschaftsberatung mbH, gets to the bottom of this question in his latest contribution to the Siemens Blog.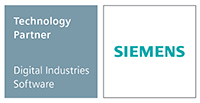 The MTM software TiCon is available as a platform for Windows, SAP and also for Siemens Teamcenter. Siemens Digital Industries Software and Deutsche MTM-Gesellschaft mbH have jointly developed TiCon for Teamcenter. The software is fully integrated with the Easy Plan user front end - the next generation of manufacturing planning solution based on Teamcenter Manufacturing. TiCon for Teamcenter is used to determine target times, identify productivity potential and visualize ergonomic risks in workplace design.
BSH Hausgeräte GmbH is one of the successful users of the software. Here, TiCon for Teamcenter is the solution for integrated digital process planning, i.e. for the integration of all manufacturing-relevant data in a PLM database. TiCon for Teamcenter is available for the MTM process building block systems MTM-UAS, MTM-SBW and MTM-MEK.
You want to learn more about the software solution?
Contact us: sales.software@mtm.org