04/26/2021 | MTM in China: "Good ergonomics is also good economics".
Ergonomics in work design was the focus of the latest exchange of experiences of the MTM/IE China regional group. This time, the meeting took place at the factory of item in Kunshan, Suzhou. Participants came from Rieter (China) Textile Instruments Co. Ltd, Voith Turbo Power Transmission (Shanghai) Co, Ltd, FAW JIEFANG Automotive Co., Ltd, Nantong Sicont Intelligent Equipment Co. Ltd, Zf Automotive Technologies (Zhangjiagang) Co. Ltd and Jiangsu Swift Machinery Technology Co., Ltd, among others. In total, more than 50 experts in work design, occupational health- and production management from 26 companies attended the meeting.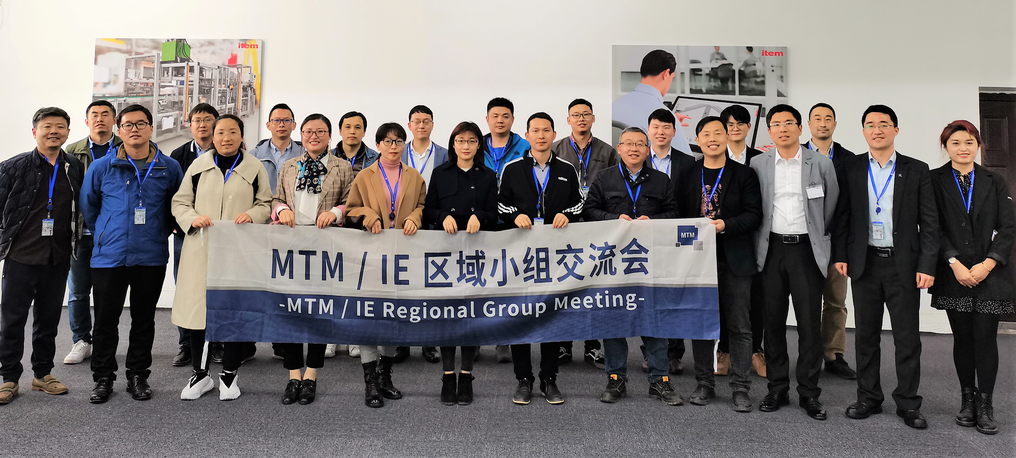 The program included a presentation by Shaofei Ma, Technical Sales Manager of item Industry Automation Technology (Qingdao) Co., Ltd. on the ergonomic design of its high-quality products and a tour of the exhibition center. Participates develop a great interest in the AGR certified work bench systems, End-to-end ESD protection, Efficient transport trolleys, MB Building Kit System, Profile Tube System D30, the Automation System and other products. In addition, Wei Jiang, Head of Ergonomics of MTM Shanghai, introduced the basic principles of EAWS (Ergonomic Assessment Worksheet), the structure of the Ergo-Map and -quick screening procedure. He also shared with the participants his experience and tips for ensuring efficient and healthy work. His conclusion: "Good ergonomics is also good economics."
During the sharing of experiences, a consensus emerged that as the workforce ages, occupational diseases affecting the neurological, muscular and skeletal systems are on the rise and have a non-negligible negative impact on both employee health and operations. Proactive, quantitative assessment of ergonomic risks in work design is the key to achieve risk control and state optimization.

Companies interested in joining the MTM/IE China regional group are welcome to contact Ms. Jiaye Wang, wangjy@mtm-china.net