11/03/2021 | MTM/IE China Regional Meeting on Digitization of Work Design
19 industrial engineering specialists and managers attended the 5th MTM/IE regional group meeting in China at the Tianjin plant of item Industrietechnik GmbH on October 19, 2021. The focus was on the digitization of work design. Mr. Wei Jiang from MTM Shanghai presented various digital tools that can be used to achieve the goals of increased efficiency, standardization and ergonomics in work design. Mr. Gang WANG and Mr. Yingchao WANG of item demonstrated an easy-to-use online design tool and presented examples of ergonomically designed workbenches and lean production line designs.
The event also included a roundtable with MTM experts. Ms. CUI Aiyan, MTM practitioner at WAGO Tianjin, sees digitization as an effective way to improve the transparency of the work process and identify design potential early on, especially with regard to efficiency improvements and human ergonomics. Mr. MI He, IE Manager of FAW-Volkswagen Tianjin, shared his experience with MTM in production planning. He believes that the continuous introduction of digital technologies will bring great changes to the company's industrial engineering. The group also discussed topics such as increasing efficiency in variant diversity and small batch production, the development of building block systems, and demographic developments and the corresponding challenges for ergonomics.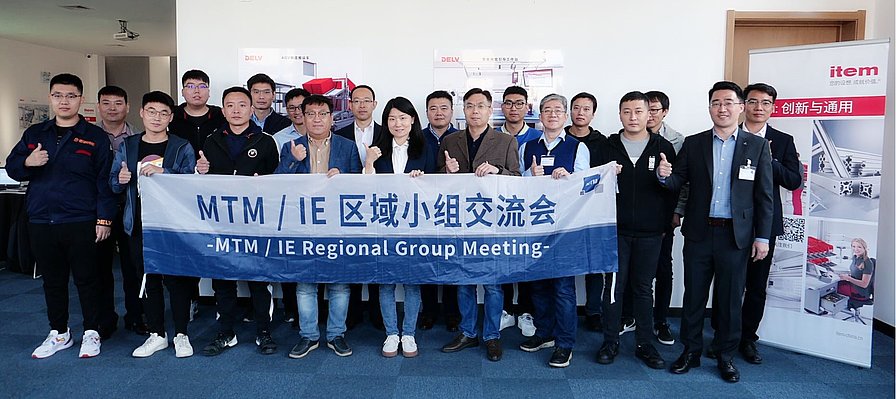 The MTM/IE regional group meetings in China are an initiative of MTM ASSOCIATION e. V. and are supported by MTM (Shanghai) Enterprise Management Consulting Co., Ltd. If you would like to participate in the exchange of experiences with your company, please feel free to contact MTM Shanghai.
Your contact: Ms. Jiaye Wang, phone: 021 - 65342800 - 801, e-mail: wangjy@mtm-china.net